Buddy Boy goes to two different schools for pre-k.
(A long boring story that I promise not to share with you.)
T/TH he's at the Happiest Place on Earth – Infinite Bounds. M/W/F he goes to The Other School – which will remain nameless. I'm not a big fan of The Other School. Buddy Boy loves it, but I don't find it a very warm and welcoming place. We've been going there for a whole school year now, and out of the 9 kids in Buddy Boy's class, only 2 of the Other Mothers actually speak to me. Until Monday.
It was Texas-hot outside, so of course, the kiddos insisted that I pick them up in the convertible. By the time I got to The Other School to retrieve Buddy Boy…well…I was swimming in sweat. Oh yeah, we're talking sweat marks on my backside. I walked into school, a little embarrassed – but not too much. You know, on account of the fact that nobody there talks to me. Well, here's what transpired:
Other Mother
(who has not so much as smiled in my direction in the last 9 months)
, "Hi! How are you?"
Me
(quickly glancing over my shoulder to verify that Other Mothers is indeed addressing me)
, "Whew! Hot!"
Other Mother
(before I even get a chance to recover from the shock of being spoken to)
, "I'm Fine.
(pause for effect)
Thanks for asking."
*blink* *blink*
~* Language Alert *~
You know, shortly after moving to Texas for the 1st time, one of my new friends asked me if I knew how a Texan Lady says "Fuck You". The answer? "Well isn't that nice." Said with a charming smile, of course.
Well Other Mother…this is for you:
So, is there someone you'd like to send a flower to today? Or maybe you'd just like to flip someone the bird. Well, now you can do both! I'll be celebrating brazen acts of passive aggression right here for the next few Fridays – or maybe longer. We'll see.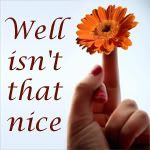 G'head. Grab it! You know you want to. So do it! And don't forget to leave your link.