Buddy Boy got in trouble yesterday for running around on the playground screaming that everyone was wearing dirty underpants.
Whatever. At least he wasn't swearing or sneaking cigarettes behind the dumpsters like I was at his age.
Of course, I was mortified when his teacher told me this. And after I spent an acceptable amount of time lecturing my 5yo on the perils of potty talk, I spent a little more time searching for an appropriate baby picture for his Pre K graduation ceremony slide show. I think this one will do just fine. Ahhhh…my little 'wingman'. He makes me incredibly happy – potty talk and all.
So? What's putting a smile on your face today? Join the happiness at Leigh vs. Laundry.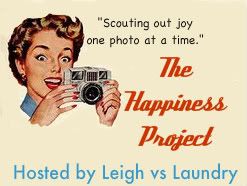 (Oh yeah, and just in case you're wondering – which you shouldn't be, because I'm a good mother…really…I am – that bottle was rinsed clean when Baby Buddy Boy got a hold of it. Drunk babies are not cool…and neither are drunk dogs nor drunk rabbits, but those are different stories.)
Hey! Have you entered my giveaway yet? There's still time. Hop on over
here
.